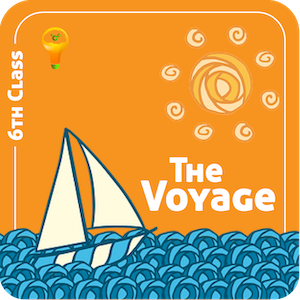 About Course
The Voyage
:
a workshop designed to support children's emotional wellbeing during their transition from 6th class in primary school into secondary (post-primary) school.
In 2021, with the support of the Irish Youth Foundation, we adapted this workshop so it is available online nationally. The Voyage has supported >2000 6th class students with the emotional aspects of transitioning from Primary to Secondary School since it began.
The Voyage utilises a combination of Art Therapy and Play Therapy therapeutic approaches and is focused on the student's Voyage/emotional wellbeing, for the transition from primary to secondary school.
Transitioning from Primary to Secondary school is a time of huge transition for students, leading to children experiencing uncertainty and increased apprehension/anxiety. Allowing time in the day to focus on creative expression, be it painting, writing, drawing, working with natural materials or keeping an art journal can help us to artistically express what we are experiencing/feeling.
The activities/support excercises can be practised again and again at home after the student has completed the workshop in school (or from home straight away with Home Only edition) and require basic art materials that can be accessed in most homes. No artistic ability is necessary to complete the activities.
The focus is to allow a space to express the child's emotions creatively – there is no wrong or right way to do them, they only require a willingness to participate.
The goal is not to create beautiful pieces of art, the aim is to become immersed in the activity itself and the child allowing themselves to focus in the present moment.
Show More
What Will You Learn?
The transition from primary to secondary school is a time that involves many changes that can be both exciting and daunting for students and their families.

This course focuses on promoting positive emotional wellbeing through mindful and creative activities and by providing a space for reflection.

Good daily practices such as mindful exercises and creative activity can help develop children's emotional and social development, enhance self-esteem and help cope with change.

This course is not an Art /Play Therapy programme but is a resource for students to help them develop practical skills and strategies to manage their feelings and by encouraging creativity.
Course Content
How It Works & What You Need For Each Chapter
Chapter 1
Chapter 2
Chapter 3
Chapter 4
Chapter 5
Chapter 6
Chapter 7 – Feedback